Accidentally made the mistake of hiking in the exact opposite direction as planned; don't ask what I was thinking, but I never go off plan like this.  Was planning to go Diceys Mill to Blueberry Ledge cutoff, up Blueberry to the summit of Mt. Whiteface, and then Rollins Tr back to Diceys up to the summit of Passaconaway and Diceys back to the bottom.  I planned this way so that, in the event that the ledges were too risky, I could simply turn back safely.  Going in the opposite direction practically required me to commit to heading down them.
Despite my original planned route, I ended up going straight up Diceys to Passaconaway first and then attempted to rush to Whiteface via Rollins.  After about 3/4 mile, decided the trail was too loosely packed to be able to hit the pace I needed to be successful before sunset and turned back (assuming I deemed the ledges too risky to descend, I needed to do the 4.6 round-trip on Rollins in 2 hours, and then the 3.7 down to trailhead in 1 hour… an indescribably brisk pace).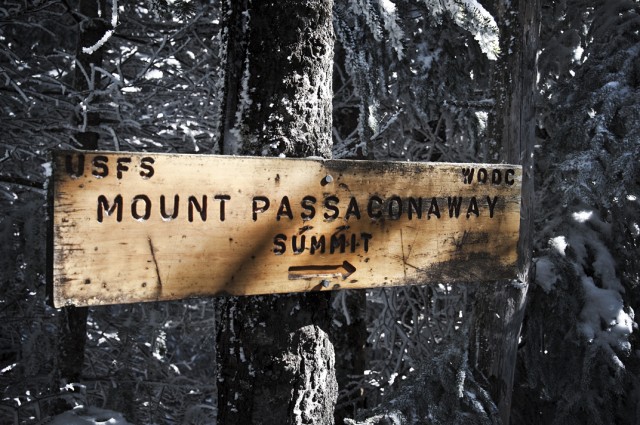 Only saw one other on the trail today.  Microspikes the entire way and crampons for the final icy ascent.  Snowshoes recommended for Rollins Tr.
Round-trip (including the Whiteface failed attempt): 10.6 miles / 5 hours.